Creatio is a multi-awarded solution that combines an intelligent BPM platform with a unified CRM, enabling companies to deploy fast and transform even faster. Therefore, they can accelerate implementation, adoption, and alignment for their customers, as well as provide them with a powerful low-code platform to accelerate their ongoing and continuous transformation. They also offer applications and add-ons from their Marketplace, ready to use templates, and consulting.
Work is a pleasure with Creatio's clean and easy to use interface. The system provides effortless access to features and information regardless what device that is being used: phone, tablet or laptop. Thanks to the contextual display of information, you'll see only the data needed for the current task, concentrating your attention on what's important.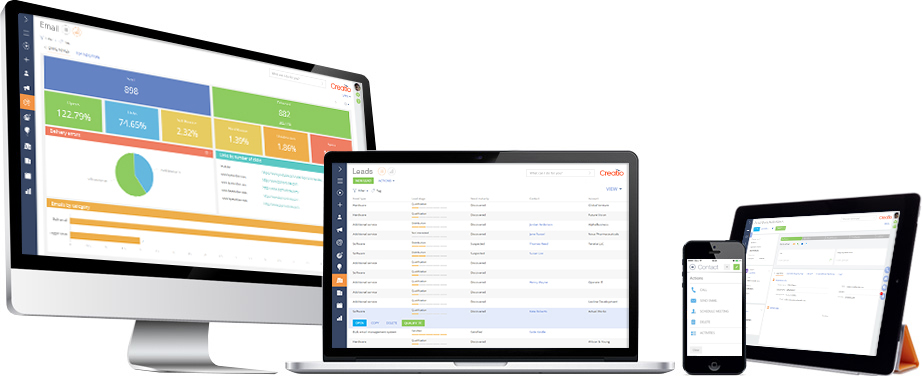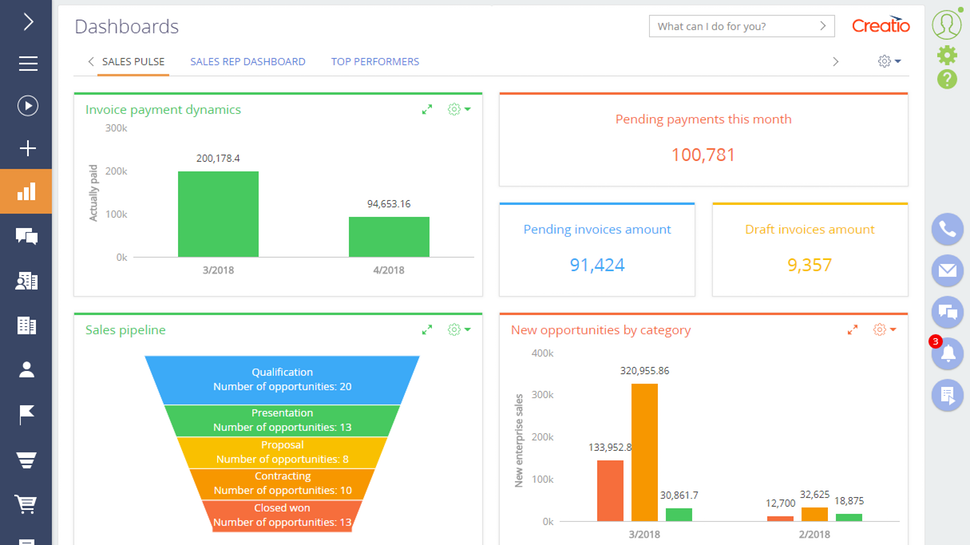 Creatio (formerly bpm'online) is a unique synergy of unified CRM and intelligent BPM platform for marketing, sales and service automation. The solution allows midsize and large companies to manage the customer lifecycle from lead to sales and to ongoing customer service.
The solution gives users the ability to view marketing, sales and service activities through a single CRM platform. Creatio provides three integrated products, which can be used separately or in a single CRM bundle – Marketing Creatio, Sales Creatio and Service Creatio.
Marketing Creatio is a multichannel marketing application that enables marketing specialists to create and support ongoing communication with clients.
Sales Creatio is a sales force automation (SFA) tool for managing the sales cycle from lead generation to managing repeat customers. Service Creatio provides customer service tools to help with customer engagement.
Creatio can be deployed on-demand as a cloud-based solution or on-site, where data is hosted in-house on the company's servers. In both cases, users can access Creatio using a web browser or the mobile app. The system is both Windows and iOS-compatible.
Features, Benefits and Product Strengths with JI Group
Unified CRM platform – Creatio enables users to manage their customer's complete journey, from lead generation to continued account maintenance. Its Marketing CRM product is a robust automation software that allows users to easily manage each step in customer demand generation through pre-defined processes. It can track new leads, evaluate the level of engagement and efficiency of different channels, and help them build their target audience and send bulk emails with a few clicks. The Sales CRM software has an engaging interface with a social look and feel. It is quick to learn, easy to navigate, free from redundant information, and works across devices. It supports processes for lead management, opportunity management, quote management, and order and invoice management. The Service product is further divided into Customer Center, which is best for omnichannel communications management, and Service Enterprise, which is best for delivering high-level service across multiple communication channels.
Intelligent BPM Platform – Creatio is a low-code business process management software. Users can jointly design and organize processes by moving elements with click-and-drag functionality. They can comment on actions and manage processes in the same environment, so no need for different apps. They can build custom solutions through business rules, a Section wizard, and with the help of artificial intelligence. The software also has extensive integration capabilities and tools for identity and access control, and company org structure management.
Out-of-the-box Solutions and Templates, Global Partners, Professional Services, and more – Creatio can help accelerate app development with pre-built solutions and templates from its Marketplace. Users can choose from hundreds of add-ons, connectors, and software solutions from categories such as sales, marketing, service, collaboration, productivity, document management, and more. They can easily automate processes with ready-to-use process templates, such as for an opportunity management dashboard, event participation planning, quality of service dashboard, activity notification, and many more. Users can also get training, implementation and consulting services from more than 500 global partners across 35 countries in different regions of the world. They can all help in project implementation using PRINCE2 methodology, from elaboration, execution, transition, to operation.
Marketing Creatio, Sales Creatio, Service Creatio and Studio Creatio
Marketing Creatio provides best practice processes for efficient lead management – from demand generation to lead nurturing, to final hand-off to sales. Make sure your sales team focuses only on qualified and sales-ready leads.
Use email-marketing tools to establish and maintain personalized communications with every customer. Optimize your communication strategy based on mass mail responses.
Sales Creatio includes referenced processes that serve as best practices for lead management, opportunity management, quote management,as well as order and invoice management.
Sales Creatio delivers end-to-end sales processes to manage the complete customer journey.
Thousands of Sales Creatio users prove that blueprint processes guarantee excellent results!
Service Creatio allows companies to manage customer requests and automate service operations by following pre-defined processes for customer care excellence.
Personalise communications with your clients using Service Creatio. Manage all client requests in a single view no matter what channel they came from: phone, email, chat, social network or customer portal.
Studio Creatio is an Intelligent low-code and process management platform with out-of-the-box solutions and templates. When your business processes change you are in control, low-code technology provides non-IT employees with the ability to build apps and tweek the processes they need. Collaborate on process design with your team and edit processes together in real time.