Introduction: There are several design ideas evident in top CRM systems. After 20 years of CRM, 2 very different types of design now clash. Most prevalent is traditional programmed process CRM. 'Low-Code' changes the landscape along with the COTS 'No-Code' designs.
Since May 2018, BPM'online as a 'Low-Code' competitor has emerged as the only product in the Gartner 'Magic Quadrant' classed as a 'challenger' (copyright Gartner). As a 'Low-Code' competitor, it is introducing a new customisation/personalisation paradigm which is the disruptive technology due to upset the established order.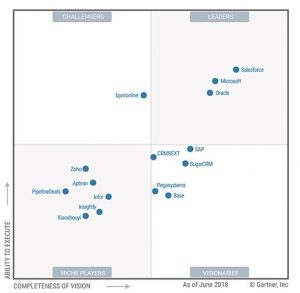 20 Years of CRM: Siebel CRM was the first system to carry the label 'CRM' (1995-ish). It was designed to have individually programmed screens and forms for every process/view.
User staff were constrained to follow the ways of working and disciplines required by management. It was designed for deployment to hundreds or even thousands of staff who would all work in a process-driven way.
Customisation and new processes were created by business analysts and programmers; the standard software development cycle of the 1990's.
Today, most of the large systems work this way, but their days are numbered.
Siebel was in its time the most successful global system of this type. It was bought out by Oracle some years ago.
The Next Phase of CRM 2018+ Evolution: 'Disruption': Adopters of BPM'online CRM have recognised that their real-world business processes are relatively uncomplicated (spreadsheet logic). They can therefore be designed in a screen-based flow (box) diagram of connected objects. Push the 'accept' button and you have executable code; ideal for a volatile world.
Removing the software development cycle and expensive resources has huge commercial benefit. The rapid deployment effect of this simplification with agile maintenance options is the real game-changer. For evolving process applications like CRM, it's a leap forward.
This 'Low-Code', order of magnitude simplification is also rapid deployment, low cost, flexible, de-skilled and 'Agile'. After 20 years, it breaks the CRM mould created by Siebel.